NOC Duty again. Sir, yes Sir! 15800H July 2005 - 16800H 2005 Sir! Bow.
I was here since the office hours started. Unlike during my previous postings here at the NOC, I would just normally post during the off-office hours (lunch break, after office hours, etc). But since most of those assigned at NOC are taking Linux classes, the duty personnel were requested to take their posts at office hours.
Just today, I've done the technical support' duty for answering technical problems experienced by several PA offices, the secretary's duty for doing calls for the director and producing cups of coffee for him & his guests, the janitor's duty for sweeping the floor and keeping the office tidy, and my job, that is to follow the boss' directive…
Sheesh… Life's never boring here…
-
We didn't finish facilitating the DCIS seminar last Thursday because of the availability of the officers who will be taking it.
How I really wish that seminar would be over.
-
But the multitude fruits of our labour were divided and equally shared…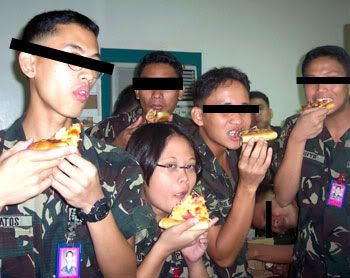 And there was great rejoicing!
PIZZA PARTY!
-
The Jollibee buds went to Jollibee again! Yey~ But without the usual jog.
-
Yesterday, I went to the gym with Glentot… Whoa~ Like I'm the general's new gym buddy.